In Memory
Leslie Zelinsky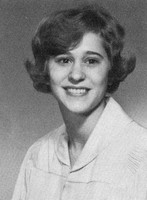 FROM BETSY GLOVER:
It is with a heavy heart that I write to let you know that my longest and dearest friend and our classmate Leslie Zelinsky died last Friday, March 27, 2015.

Leslie was diagnosed with stage four lung cancer two years ago and fought the good fight until she could no longer stand the pain.

Leslie was in our class but jumped ahead a half year to graduate in the spring/summer of 1962.

Leslie and her husband Tom Epling sailed down the Pacific Coast and landed in Playa Del Coco, Costa Rica which they made their home. They had two daughters Amaya and Eden. Leslie home schooled both girls. Both graduated from UCSB.

There will be a celebration of her life in May. If anyone wants to send a memory of Leslie to me I will be happy to read it at the memorial.

You can reach me at betsypearceglover@gmail.com.